Archive for holidays
I was never a Halloween guy, as a kid. I could take it or leave it as a youngster. Too much effort, I suppose.
I never knew what I was going to dress up like, or even if I was going to go door-to-door at all, until sometimes hours before sundown on October 31.
One year, I recall, I was particularly tardy with my decision. I was planning on staying in, passing out candy, when I got a phone call from a friend. It was dusk, at the very least, when the phone rang in our Livonia home.
"You going baggin'?" was the question. It was my friend, Bob Bernard, who lived a couple blocks away and who I never had gone Trick or Treating with prior to that year. I still don't know what prompted the call. It wasn't that Bob and I weren't friends; we just weren't very close. Certainly not "baggin'" close. Or so I thought.
I initially rebuffed his request, but he pressed me.
"I don't have a costume," I pleaded. It fell on deaf ears.
I hung up, scrambling. What to be? WHO to be?
I don't where it came from, but I asked my mom if she had a nylon stocking that she didn't care much for.
Voila! I went as a bank robber, the stocking pulled over my face. I think I had a toy gun. Not sure. Regardless, I had a "costume." I was ready to go baggin'. Bob's term.
A pillow case served as my "bag." Out we went into the Halloween night, soliciting for candy door-to-door.
Halloween—the only holiday based on extortion.
Trick or treat!
Give us candy, or something bad will happen to you or your home. Or maybe even your loved ones. Who knows.
It's a holiday built around candy used as protection money. Just cough up the goodies and we'll make sure nothing untoward occurs.
But as an adult—more specifically, as a father—I came to enjoy Halloween more. The decorations got more sophisticated and fun to look at, number one. One of our family traditions has been to drive around neighborhoods, admiring Christmas displays. Now, you can pretty much do the same with Halloween.
Then there are the cute little kids, made even cuter when stuffed into bumble bee or pumpkin outfits. I can't wait to see who comes to our door next.
Our daughter has always been a big Halloween person, starting from when she was two years old and won a  costume contest at a campground in Canada. She was dressed as a pumpkin, of course. Every year she has dressed in something different and never without creativity. In recent years she's been Captain Jack Sparrow, The Joker, and Harley Quinn.
As usual, even at age 19, she plans on dressing up. She doesn't go "baggin'" anymore, but she's taken over the candy passing out duties at home. Tonight it will be friends coming over for pizza and to watch scary movies.
My wife and I will be safely ensconced in our bedroom, dressed as ourselves and eating pizza while the kids take over the front room, passing out the candy.
Yes sir, I'm liking this Halloween thing more, the older I get.
It was a ritual I remember pretty clearly, though I took part in it some 37 years ago.
I was an 11-year-old safety boy—remember those?—and part of my duty included taking care of the school's U.S. flag.
And I do mean "taking care of."
I remember that there was much reverence, as much as a youngster can show, every time a partner and I lowered, folded, unfolded and raised Old Glory.
Every morning I was part of the tandem that was responsible for getting the flag up the pole before the school day. Sometimes I was part of the pair who lowered it at the end of the day and folded it, properly.
In both instances, the flag was sacred. I remember being told to don't dare allow the flag to touch the ground, even for a second. And it had to be folded a particular way—a way that I really didn't understand because it seemed clunky, but I did it. Because that's how I was taught.
As I grew older, I learned of other unwritten—and written—rules of how the U.S. flag ought to be treated.
Shining a light on it at night, for example. Lowering it at the end of the day, if there is to be no light source.
A neighbor of ours, a couple years ago, installed a flag pole and hoisted the stars and stripes up it. Terrific.
He hasn't paid attention to the flag since. He certainly hasn't shined a light on it at night. It wasn't long before his flag, once brand new, started to look tattered and torn and something straight out of a Revolutionary War painting.
So the question on this Flag Day 2012 is simply, "Do we as Americans know how to treat our flag anymore?"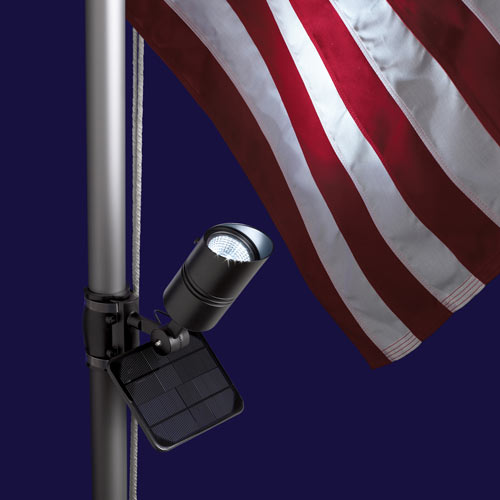 This is a nifty gadget for individuals who wish to fly the U.S. flag at night
There's something called protocol, and I don't think we're following it.
I don't know how many times I've seen U.S. flags flying at night—in the dark.
The U.S. flag, should one choose to display it, ought to be done so properly. I think we're losing that.
For those wondering why I haven't called my neighbor out about his ham handed attempt at flying Old Glory, I can tell you that he's not the type to take such advice—at all. His intentions might have been good, but his execution is sorely lacking. And always will be.
There's been much consternation over the past several decades about flag burning. I can see why that's a hot button issue.
But daily displays of the U.S. flag that are at once derelict, lazy and disrespectful ought to be paid attention to, as well.
Fly it. Display it. Do it proudly.
But do it right, or don't do it at all.
Do any two consecutive months on the calendar pass as quickly as November and December?
I've long said it: once you get past Halloween, it's a slippery slope to the end of the year.
This is both good and bad.
November is almost done, just like that—as usual. Wasn't it just the other day when I was passing out candy?
I say it's good and bad because the holiday season swoops in and that means more expense, more stress and more weight gained.
So it's good that it all happens so fast.
But it's also bad, because there doesn't seem to be enough time for everything, like shopping. More to the point, there doesn't seem to be enough time to assemble the funds needed for said shopping.
Starting on November 1, Thanksgiving already begins to creep into the minds of our lovely wives, who, whether hosting the holiday feast or not, have arrangements and plans to think about.
Turkey Day came relatively early this year (the earliest it can occur is November 22 and this year it came on November 24), just three weeks and some change after Halloween. That means that while the mini Snickers bars and tiny M&M bags leftover from a lack of kid traffic on Halloween sat in plain sight, begging to be consumed, Thanksgiving's meal was already being planned.
We go from candy to candied yams, just like that.

How do we go from this…..


…to this, in a matter of days? (or so it seems)
Retailers don't help, of course. They can't wait to shove the Halloween displays aside and replace them with wreaths and inflatable Santas. One of the radio stations in town has made it a habit in recent years of starting to play Christmas tunes on November 1. I don't pity the listeners (they can change the station), I feel for the employees, who have to listen to that for 54 days before Christmas even arrives.
TV ads shouting about Black Friday specials begin on or around November 1. The Internet sprouts stories of impending BF deals like pimples on a teenager's face just before prom.
It's all designed, I'm convinced, to throw us into a panicked tizzy.
So far, Mrs. Eno and I have managed to squeeze some Christmas shopping in, before November ends—which for us is unusual. The game plan this year is to chip away at it. Of course, that's our game plan every year. And every year we scramble in mid-December.
Which is mere days after the ghosts and goblins have left our front porch. Or so it seems.